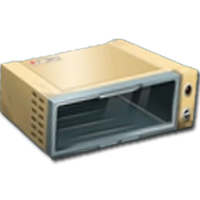 The Pizza Oven is an appliance in the Pizzeria. It is used to cook pizzas for customers.
One pizza oven is available when players first start level 1 in the Pizzeria. Players have the option of upgrading the pizza oven to cook pizzas in less time and to cook more portions at once.
The minimum time a pizza oven will cook a pizza is 5 seconds. The maximum portions cooked at once is four. Experience points are given for each time a player upgrades the pizza oven.
Upgrading
Upgrade 1
Upgrade 2
Upgrade 3
3500

coin


5

gem

5000

coin


10

gem

6000

coin


20

gem

2

portion

3

portion

4

portion

14 s

time

8 s

time

5 s

time

200

xp

300

xp

400

xp