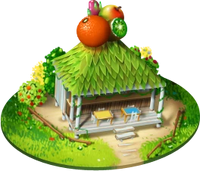 The Paradise Cocktail Bar is unlocked on experience level 29. It costs 25,000coin

and 25gem

to open. Players will pour and serve blueberry, mango, watermelon, grapefruit, kiwi, and pitaya drinks to waiting customers. The Paradise Cocktail Bar offers a fruit salad at level 30, which is a bonus food that customers will briefly ask for while they wait for their order.
The location of the Paradise Cocktail Bar is in Paradise Island. The maximum Daily Income is 1002coin

. The Paradise Cocktail Bar was added to Cooking Fever in the June 2015 update.
Kitchen Upgrades
Kitchen upgrades increase how quickly machines cook food or refill beverages. They also increase how many portions can be prepared at one time. Additionally, kitchen upgrades increase the price per portion of food.
Interior Upgrades
Interior upgrades increase a customer's wait time, tip time, and tip amount. It also provides an option for extra customers which is the most expensive upgrade.
Unlike kitchen upgrades, which go into effect as soon as you pay for them, interior upgrades can take anywhere from 30 minutes to 9 hours to upgrade.
Levels
*This was the number displayed when the star threshold was crossed on a level.
Tasks
Tasks
Reward
Upgrade one of the fruits
Go to the KITCHEN UPGRADES window and upgrade one of the fruits

xp

50


coin

50
Create 3 ice portions in one tap
Start making ice using the ICE MAKER and do not release your finger until you get 3 ice portions

xp

50


coin

50
Upgrade your tabletop
Go to the KITCHEN UPGRADES window and upgrade the following item to level 1: TABLETOP

xp

75


coin

75
Upgrade the ice maker
Go to the KITCHEN UPGRADES window and upgrade the following item to level 1 (the lights beneath items name show its level): ICE MAKER

xp

75


coin

75
Serve 3 juices of any flavour in 5 sec
Prepare 3 juices of any flavour and serve them as quickly as possible

xp

100


coin

100
Upgrade the blender
Go to the KITCHEN UPGRADES window and upgrade the following item: BLENDER

xp

75


coin

75
Serve 250 juices of any flavor
Serve 250 juices of any flavour to your customers

xp

200


coin

200
Upgrade your cotton candy machine
Go to the KITCHEN UPGRADES window and upgrade the following item once: COTTON CANDY MACHINE

xp

100


coin

100
Upgrade all fruits
Go to the KITCHEN UPGRADES window and upgrade the following items: BLUEBERRIES, MANGO, WATERMELON, GRAPEFRUIT, KIWI, and PITAYA

xp

150


coin

150
Upgrade every environment item to Level 1
Upgrade ALL the items in INTERIOR UPGRADES at least once

xp

150


coin

150
Fully upgrade mint leaf
Go to the KITCHEN UPGRADES window and fully upgrade the following item: MINT LEAF

xp

150


coin

150
Fully upgrade decorative umbrellas
Go to the KITCHEN UPGRADES window and fully upgrade the following item: DECORATIVE UMBRELLAS

xp

150


coin

150
Fully upgrade blender
Go to the KITCHEN UPGRADES window and fully upgrade the following item: BLENDER

xp

200


coin

200
Fully upgrade all fruits
Go to the KITCHEN UPGRADES window and fully upgrade the following items: BLUEBERRIES, MANGO, WATERMELON, GRAPEFRUIT, KIWI, and PITAYA

xp

400


coin

400
Fully upgrade your cotton candy machine
Go to the KITCHEN UPGRADES window and fully upgrade the following item: COTTON CANDY MACHINE

xp

300


coin

300
Serve 500 juices of any flavour
Serve 500 juices of any flavour

xp

400


coin

400
Fully upgrade Cotton Candy
Go to the KITCHEN UPGRADES window and fully upgrade the following item: COTTON CANDY

xp

300


coin

300
Serve 50 Fruit Salads
Serve 50 FRUIT SALADS to your customers

xp

400


coin

400
Complete all kitchen upgrades
Go to the KITCHEN UPGRADES window and upgrade every item there

xp

500


coin

500
Complete all environment upgrades
Go to the INTERIOR UPGRADES window and upgrade every item there

xp

500


coin

500