Tags: apiedit, Visual edit

 

 

Line 1:
Line 1:
 
+

{{PageDisplay}}

⚫
 
 
+

[[File:Sports-Bar-Glazed-Sticks.png|200px|left|Glazed Sticks]]

 
+

{{Infobox_Items

 
+

|title = Ingredient

 
+

|level = 11

 
+

|price = 10 to 16

 
+

|appliance = [[Glazed Sticks Cooker (Sports Bar)|Glazed Sticks Cooker]]

 
+

|location = [[Sports Bar]]

 
+

}}

 
+

{{Clr}}

 
+
 
+

'''Glazed Sticks''' is an ingredient in the [[Sports Bar]]. It is cooked in a [[Glazed Sticks Cooker (Sports Bar)|glazed sticks cooker]].

 
+
 
+

Glazed sticks is available starting on level 11 in the [[Sports Bar]]. Players have the option of upgrading glazed sticks to increase the amount a customer pays. The starting price for a glazed stick is 10{{Infoicon|coin}} and the maximum is 16{{Infoicon|coin}}. Experience points are given for each time a player upgrades glazed sticks.

 
+

{{Clr}}

 
+
 
+

=='''Upgrading'''==

 
+

{| border="0" cellpadding="5" cellspacing="1" style="text-align: center; margin: 1em auto; border-collapse: collapse; border: 1px solid #333;"

 
+

|- style="background: #ddd;"

 
+

|[[File:Sports-Bar-Glazed-Sticks-1.png|75px]]

 
+

|[[File:Sports-Bar-Glazed-Sticks-2.png|75px]]

 
+

|[[File:Sports-Bar-Glazed-Sticks-3.png|75px]]

 
+

|- style="background: #ddd; color: #6cf;"

 
+

|'''Upgrade 1'''

 
+

|'''Upgrade 2'''

 
+

|'''Upgrade 3'''

 
+

|- style="border: 1px solid #333;"

 
+

|400{{Infoicon|coin}}<br />1{{Infoicon|gem}}

 
+

|800{{Infoicon|coin}}<br />2{{Infoicon|gem}}

 
+

|1200{{Infoicon|coin}}<br />3{{Infoicon|gem}}

 
+

|- style="border: 1px solid #333;"

 
+

|12{{Infoicon|coin}}

 
+

|14{{Infoicon|coin}}

 
+

|16{{Infoicon|coin}}

 
+

|- style="border: 1px solid #333;"

 
+

|10{{Infoicon|xp}}

 
+

|15{{Infoicon|xp}}

 
+

|20{{Infoicon|xp}}

 
+

|}

 
⚫
---
Latest revision as of 01:34, 19 May 2017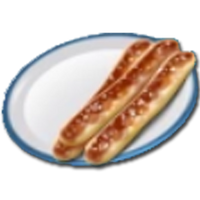 Glazed Sticks is an ingredient in the Sports Bar. It is cooked in a glazed sticks cooker.
Glazed sticks is available starting on level 11 in the Sports Bar. Players have the option of upgrading glazed sticks to increase the amount a customer pays. The starting price for a glazed stick is 10coin

and the maximum is 16coin

. Experience points are given for each time a player upgrades glazed sticks.
Upgrading
Upgrade 1
Upgrade 2
Upgrade 3
400coin
1gem
800coin
2gem
1200coin
3gem
12coin
14coin
16coin
10xp
15xp
20xp
Community content is available under
CC-BY-SA
unless otherwise noted.