m

(Lots more info. Partial guesswork, from old old memory. So please correct the "7 and 2 gems" part if I'm wrong. I always bet 500 nowadays. Not 100 or 200. But I distinctly remember winning 7 gems once, on my last oll (ran out of coins and rolled a 20)

Line 15:
Line 15:
 

*Completing a [[Cooking Fever Challenge]]

 

*Completing a [[Cooking Fever Challenge]]

 

*Competing and placing in the top ten of a [[Cooking Fever Tournament]]

 

*Competing and placing in the top ten of a [[Cooking Fever Tournament]]

 
+

*Playing in the [[Casino]] (You can only win gems once a day, it usually takes 30-40 rolls, and it's possible to win on your first roll or spend tens of thousands or even all of your money and not win anything):

−

*Playing in the [[Casino]]:

 
−

**Place 500{{Infoicon|coin}} bets until you get 15{{Infoicon|gem}}. 

+

**Place 500{{Infoicon|coin}} bets until you get 15{{Infoicon|gem}}.

 
+

**Or place 200{{Infoicon|coin}} bets until you get 7{{Infoicon|gem}}.

 
+

**Or place 100{{Infoicon|coin}} bets until you get 2{{Infoicon|gem}}.

 

*Welcome Back Reward:

 

*Welcome Back Reward:

−

**900{{Infoicon|coin}} and 2{{Infoicon|gem}} for returning on day 7 and each day after.

+

**900{{Infoicon|coin}} and 2{{Infoicon|gem}} for returning on day 7 and each day after.

−

***The reward resets itself to day 1 if players miss a day.

+

***The reward resets itself to day 1 if players miss a day.

 
 
 

=='''Purchasing Gems'''==

 

=='''Purchasing Gems'''==

Line 40:
Line 42:
 

| style="color:#6cf;"| '''$19.99'''

 

| style="color:#6cf;"| '''$19.99'''

 

|300 {{Infoicon|gem}}

 

|300 {{Infoicon|gem}}

 
+

|-

 
+

| style="color:#6cf;"| '''$49.99'''

 
+

|750 {{Infoicon|gem}}*

 

|-

 

|-

 

| style="color:#6cf;"| '''$99.99'''

 

| style="color:#6cf;"| '''$99.99'''

 

|5,000 {{Infoicon|gem}}

 

|5,000 {{Infoicon|gem}}

 

|}

 

|}

 
+

'''*'''(and 100k gold)

 

[[Category:Game Play]]

 

[[Category:Game Play]]
---
Revision as of 10:58, 5 October 2018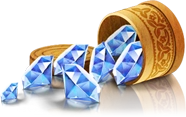 Players earn Gems as they play Cooking Fever. Gems can be used to purchase new restaurants and improve restaurants by buying kitchen and interior upgrades. Gems are also used to compete in Cooking Fever challenges and tournaments.
Gems can be earned in the game or purchased with real money.
In order to buy access to all the restaurants in The City(first map screen), and all equipment upgrades, you require 1443 gems, not including any aesthetic, food cost, or automatic cooking machine upgrades.
Earning Gems
Gemsgem

can be earned by:
Gaining a new Experience Level
Completing a Cooking Fever Challenge
Competing and placing in the top ten of a Cooking Fever Tournament
Playing in the Casino (You can only win gems once a day, it usually takes 30-40 rolls, and it's possible to win on your first roll or spend tens of thousands or even all of your money and not win anything):

Place 500coin bets until you get 15gem. (Recommended)
Or place 200coin bets until you get 7gem.
Or place 100coin bets until you get 2gem.

Welcome Back Reward:

900coin and 2gem for returning on day 7 and each day after. (First six days only award coins.)

The reward resets itself to day 1 if players miss a day or if they tamper with their time&date settings in any way, this includes automatic changes by the phone OS itself, during Daylight saving time (DST) twice a year and when you travel to a different time zone.
Purchasing Gems
Gems can be purchased with real money. Below is a table of the prices. Sometimes the game offers special discounts on purchasing gems.
| | |
| --- | --- |
| $0.99 | 10 gem |
| $2.99 | 35 gem |
| $4.99 | 60 gem |
| $9.99 | 125 gem |
| $19.99 | 300 gem |
| $49.99 | 750 gem* |
| $99.99 | 5,000 gem |
*(and 100k gold)