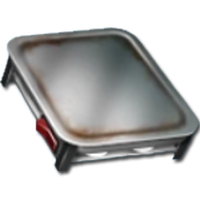 The Food Warmer is an appliance in the Fast Food Court. It is used to hold cooked burger patties and sausages.
One food warmer is available when players first start level 4 in the Fast Food Court. Players have the option of upgrading the food warmer to hold more portions at once.
The maximum number of food warmers is four. Experience points are given for each time a player upgrades the food warmer.
Upgrading
Upgrade 1
Upgrade 2
Upgrade 3
300

coin

400

coin

500

coin


5

gem

2

portion

3

portion

4

portion

5

xp

7

xp

15

xp