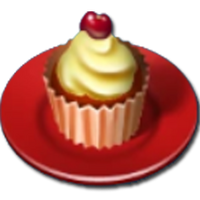 The Cupcake is a bonus food item in the Fast Food Court. Cupcakes become available in the Fast Food Court on level 21, but players can unlock them early for 3gem

. Players start out with 8 portions of cupcakes, but can refill the cupcakes again for a price. Serve these when you are having a hard time earning enough coins to get three stars on a level.
Players have the option of upgrading cupcakes to increase the amount a customer pays. The starting price for a cupcake is 15coin

and the maximum is 45coin

. Experience points are given for each time a player upgrades cupcakes.
Upgrading
Upgrade 1
Upgrade 2
3

gem

5

gem

8

portion

8

portion

20

xp

50

xp

Refill
Refill
2

gem

3

gem
Community content is available under
CC-BY-SA
unless otherwise noted.