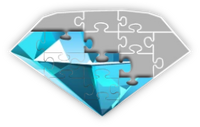 A Cooking Fever Chal is occasionally offered in the game for a specific restaurant. Players must complete 15 special levels to win 30,000coin

and 30gem

.
It costs 16,500coin

and 14gem

to participate in the cooking fever challenge. Players are given 87 hours to collect 15 puzzle pieces to form the image of a gem to win.
Strategy for Winning
Upgrade all kitchen and interior items in the restaurant location to level 3.
Serve the bonus food item to earn enough coins to pass a level.